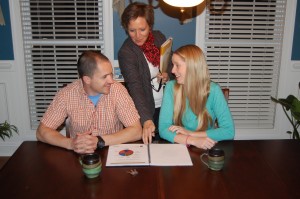 For over 20 years, Jeanne Kelly made her mark on the corporate telecommunications industry as a high-powered executive. Jeanne was at the helm for big corporate projects, managing teams and handling multiple installations, all the while helping keep revenue up and costs down.
Yet even with all that on the table, she found the time to buy and sell five homes and handle the rentals for three more. Telecomm was a career, but Jeanne discovered that real estate was a passion.
In 2011, Jeanne made the switch and put her skills and passion to work as a full-time Realtor®. She recently joined Century 21 Redwood Realty.
Jeanne discovered that her corporate experience gave her a big advantage in Real Estate. Thanks to her prior career, Jeanne was a pro at negotiating contracts and providing great customer service. Having lived in Northern Virginia since 1976 and being a property owner in both Fairfax and Loudoun Counties, Jeanne knew the area well. Her attention to detail and great management skills mean she is able to deliver a top-quality customer experience. As a manager, Jeanne learned the value of being a good listener, and she has done enough buying and selling of homes for her own family that she knows what it's like on the client's side of a deal. Professionalism, partnerships and passion keep new business coming in, and in Real Estate, every day is a new adventure.
Here are some of Jeanne's favorite tips for buying and selling a home.
If you are buying a home:
1.     Find one Realtor® to partner with during the buying process.  Your agent is your advocate, so finding a person you trust is pivotal! Your Realtor® will help you understand the local market and market conditions, and can introduce you to other qualified professionals you'll need to rely on during the home buying process, like lenders and home inspectors. A good Realtor® has a large personal network that will add incredible value to your transaction.
2.     Engage a Realtor® early in the planning process.  Understanding your 'must haves' and 'nice to haves' enables your agent to prepare a portfolio of homes to consider that match your requirements. This will ensure an efficient previewing process and avoid wasted time.
3.     Seek out a trusted lender.  Once you've found the home of your dreams, this is your first step to a successful, smooth purchase. Your lender will be your financial partner for decades, so choose an organization with a great track record for dependability and financial stability. Your Realtor® is a great resource to help you find a lender you can trust.
4.     Get pre-approved for a loan.  You and your Realtor® need to know the price range you can afford in order to focus your search and find your ideal home. The pre-approval step takes out the guesswork and makes the loan application process smoother. Pre-approved buyers get preferred treatment by sellers because the deal is more likely to go through. That puts you at the front of the line if there are multiple offers and other bidders aren't already approved!
5.     If you're planning to buy a home in the near future, do your best to avoid making major purchases that might affect how lenders view your credit. Lenders like to see that home buyers have a financial cushion and haven't maxed out their buying power.
6.     Make sure that the websites you use to check out area statistics, schools and amenities are up-to-date and reliable. Your Realtor® can suggest great sites for you to visit.
7.     If you're looking at a lot of houses in a short period of time, consider leaving young children with a trusted caregiver. You'll be able to focus better, and your kids will be happier! (Once you've narrowed it down, you can always bring the kids along for a second walk-through.)
8.     Wear comfortable shoes when you head out for a day of home shopping. You'll be getting in and out of the car frequently, and you want your mind to be on the houses, not on your aching feet!
9.     Sometimes you fall in love at first sight, and sometimes you know in an instant if the house is not the one for you. Your time is valuable, so don't hesitate to speak up if you're certain right away that a house is not right for you. There will be plenty more to choose from: save time and move on.
10.  Bring socks or slippers. Sellers will usually ask you to remove shoes to keep the carpet clean, but most won't provide shoe covers.  Unless you want to walk through barefoot, it's a good idea to have socks or slippers with you.
If you are selling a home:
1.     Start de-cluttering now!  Clutter keeps potential buyers from focusing on the home's selling points. Your personal items also make it difficult for buyers to see themselves living in the house. Even if it means putting boxes in the garage or in storage, clean out closets, get rid of extra furniture, simplify knick-knacks and make your house as showroom ready as possible.
2.     Remove or lock up all valuables such as jewelry, guns and medications. If you couldn't bear to have a precious decoration get broken or go missing, pack it up and put it somewhere safe.
3.     Even if you aren't planning to put your house on the market this season, find your Realtor® and begin your partnership now. A good agent can preview your home and give you tips on where to invest your time and money to maximize curb appeal and interior attractiveness while minimizing time on the market.
4.     Ask your Realtor® to prepare a market analysis comparing your house to similar homes on the market.  You'll learn what comparable houses are selling for compared to the asking price, how many Days On Market most properties take to sell, and other valuable information that will help your decision-making.
5.     Don't be afraid to price your home aggressively.  Consider pricing it at your bottom line or even a little under what the competition is asking.  Attractive pricing is the fastest way to get traffic and with competition comes bidding wars. Housing markets have not all returned to where they were in the early 2000s, but competition is strong in many areas and often homes close higher than the asking price.
6.     "Pre-market" is essential.  Depending on the location and the property condition, many homes sell without formally going on the market due to word of mouth through a Realtor's® professional network. Nearly 40% of homes are secured directly through a buyer's Realtor® so it's key to engage early!
7.     Talk to family and friends to get a Realtor® recommendation. It will save you time and effort.  It's essential that you are comfortable with your Realtor® since he or she is your #1 Partner in good times and bad throughout the process.
8.     Share your concerns and expectations with your Realtor!  An experienced agent has insight into the market, knows about private listings, and has connections with lenders, home inspectors, termite companies, well/septic companies, contractors, home warranty companies, title companies, stagers, and more.
9.     Understand the marketing and technology a Realtor® has to offer.  Thanks to computerized listings, social media and other high-tech tools, your agent can help you reach buyers even beyond the local market. Depending on the property, that could mean finding your buyer from across the country or around the World.
10. Make sure your Realtor® has good follow-up and follow-through skills.  You need to depend on your agent to keep his or her word, do what has been promised and stay on top of details.
11.  Be ready on photo day.  Make your house as attractive as possible. You don't want the ironing board, dirty dishes, or parked car in the pictures.
12.  Don't let constructive feedback hurt your feelings.  Your agent has seen hundreds of homes, and knows what sells and what makes buyers hesitate. Be willing to consider advice to make your home sell faster.
13.  If you're in the process of fixing up the house, have all home improvement permits handy.
14.  Tell your Realtor® about any items in your home that are not working or working properly.
15.  If you know you have an item that is non-compliant with the HOA, share it with your Realtor®. It's better to address a concern before the 'For Sale' sign goes in the yard versus waiting to see if the HOA inspector finds it.
16.  Don't forget the pets!  Have a plan for securing them when potential buyers are viewing the house. Not only does this minimize the stress on your pets, it also avoids having a precious pet accidentally get out when doors are open. Not all prospective buyers are pet people, so make sure to sweep up pet hair and put Fido's or Fluffy's toys, dishes and beds out of the main traffic areas until the showing is over.