I've got an exciting new e-book launching October 25, and I want to share a sneak peek with a free downloadable excerpt, just for you!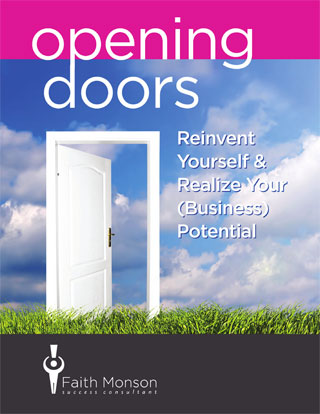 The e-book is "Opening Doors: Reinvent Yourself and Realize Your (Business) Potential." I'm so excited about the e-book, because it brings together my thoughts on something that really stirs my passion—helping others find and realize their true inner power.
In my work as a success coach, I see people facing closed doors in all aspects of their lives. Sometimes, someone else closed the door for them and they don't know how to get it open again. Other times, they've closed and locked the door themselves, and now they forgot where they put the key.
We close doors in our lives when we decide not to pursue opportunities, relationships, new ideas or ways to grow. In some circumstances, doors are shut by loss (job losses, divorce, or illness). We may not be able to open the same door we came through, and we often can't go back to the path we left, but we CAN open a door to a new, different and often better road.
Closed doors require reinvention, rethinking, and reframing in order to make your dreams come true. Doors that are closed can also be the universe's way of telling us to think something through, count the cost, do more homework, or make other changes to assure success. Closed doors can be many things, but they are not endings, just detours.
My new ebook, "Opening Doors" is written to help you find ideas to rekindle your spark, renew your passion and refresh the enthusiasm for new beginnings in your own life. Whether your obstacles are business or personal, I want to help you move forward toward your dreams.
This excerpt from "Opening Doors" is my gift to you, a first step toward opening wonderful future possibilities. The door is open—it's up to you to take the next step.
Remember—get your free e-book excerpt. What open door is waiting for you?