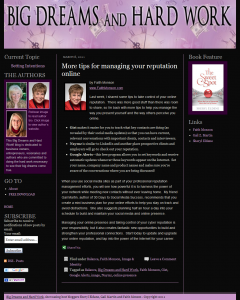 I invite you to visit my new blog, Big Dreams and Hard Work, which is dedicated to those who are committed to doing the hard work needed to see their dreams come true.  My blogging partners are Gail Martin and Sheryl Eldene, and together we provide tools and insights on all kinds of topics related to success, including marketing, self-awareness, networking, sales tips and more.
Gail Z. Martin is a bestselling author, international speaker and entrepreneur. She is the "Get Results Resource" for marketing strategies that work. Gail is the author of The Thinking Authors Guide to Launching Your Book and 30 Days to Social Media Success.
Sheryl Eldene is a business consultant and Licensed Professional Counselor who established the On Purpose Living Center. Through the organization, her lively presentations and her private consultations, she helps people discover their strength, focus their intentions and lead sparkling lives.
Visit www.BigDreamsAndHardWork.com to learn more about business success through personal relationships, networking and community.