30 Days to Social Media Success, a new book by my friend and colleague Gail Martin, was named one of the Top 5 Business Books in the Leadership Books feature on WashingtonPost.com!  The book shows business owners how to use Facebook, Twitter and other social media for economic recovery.
According to Gail, a social media expert and international bestselling author, "Business owners want to know that the time they spend on social media is going to help them get results.  I teach them how to create a strategic, results-oriented social media program and how to get it up and running in just 30 days, only 30 minutes per day."  To learn more about the book, visit www.GetResultsGuide.com.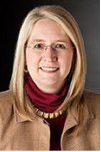 Gail and I have collaborated on a number of projects over the year.  We worked together to strengthen her visual brand and upgrade her website to help position her as a national speaker.  She and I have also joined forces with Sheryl Eldene of the On Purpose Living Center to present a new blog, "Big Dreams and Hard Work," which will launch next month.